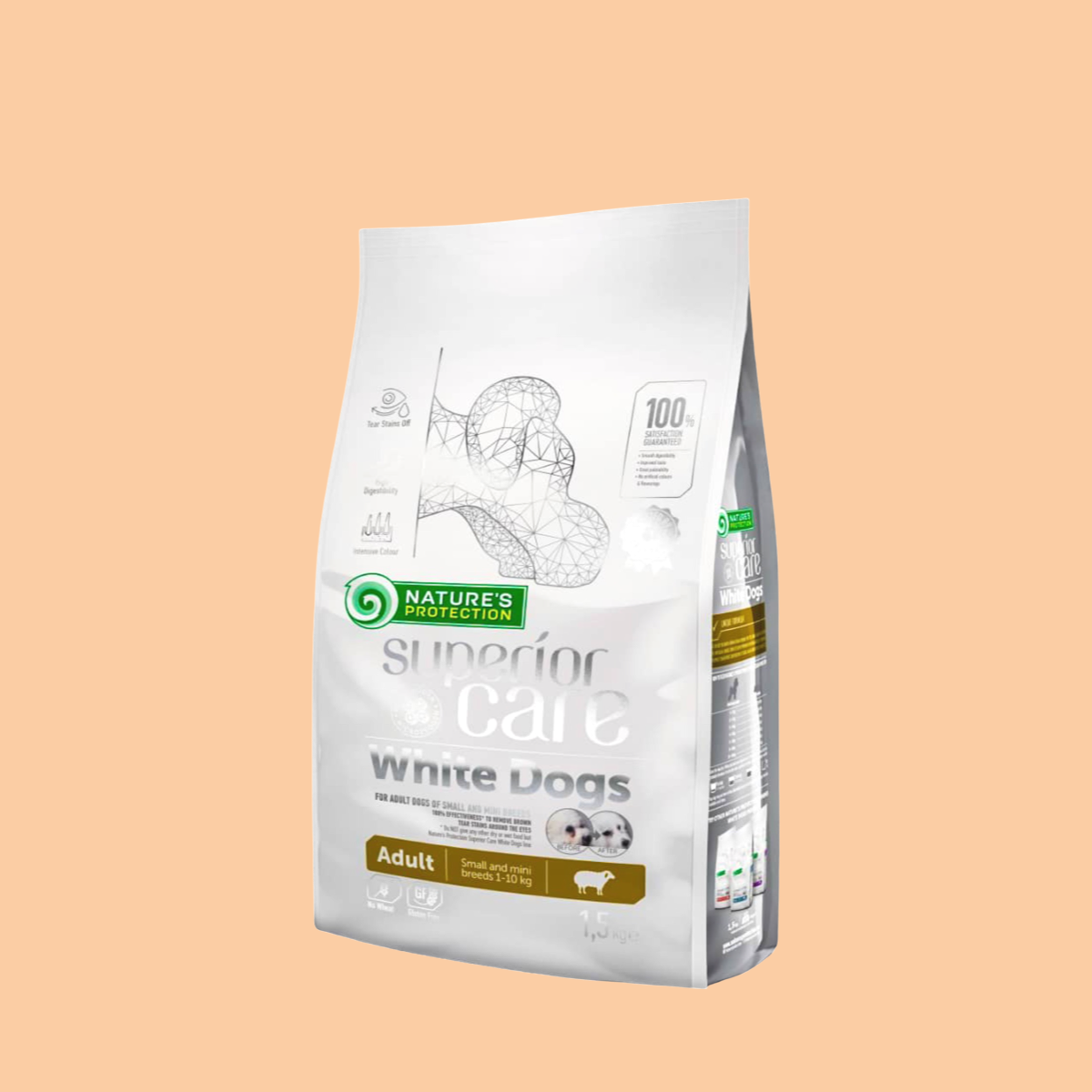 Nature's Protection White Dogs Lamb 1.5kg
WHITE DOGS LAMB ADULT SMALL AND MINI BREEDS
COMPLETE PET FOOD FOR ADULT SMALL AND MINI BREED DOGS WITH WHITE COAT
For adult (from 10 months) dogs of small and mini breeds (adult body weight - 1–10 kg)

1,5 kg

-"White Dogs" has been formulated to provide the best nutritional answer to the white coated dogs.
-Unique formula, that can help to remove brown stains around the eyes, mouth and paws that appear due to tears and saliva.
-This is technologically new product, unique with its high quality composition. The product helps maintain and develop dog's white coat and strengthens hair core internally.
-The highest quality lamb from Scotland - as a main source of animal proteins.
-Formula which contains ingredients with no gluten can help to avoid disorders of digestive system and allergic reactions.

Composition: rice, poultry fat, barley, lamb meat (dried and finely ground), protein soya isolate, chicken liver hydrolysate, salmon oil, linseed, sugar beet pulp, dried eggs, dynamic micronized clinoptilolite (1%), fructooligosaccharide (FOS), cranberry dried, borage oil, chicory extract, green tea, marigold dried, grape seeds extract.

Additives/kg:
Nutritional additives: vitamin A (3a672a) – 18000 IU, vitamin D3 (3a671) – 1500 IU, vitamin E (3a700) – 530 mg, vitamin C (3a312) – 600 mg, iron(II) sulphate monohydrate (3b103) – 80 mg, calcium iodate anhydrous (3b202) – 1,7 mg, copper(II) sulphate pentahydrate (3b405) – 6 mg, manganous sulphate monohydrate (3b503) – 25 mg, zinc sulphate monohydrate (3b605) – 145 mg, sodium selenite (3b801) – 0,25 mg, taurine (3a370) – 1200 mg, DL-methionine, technically pure (3c301) – 2,5 g.
Technological additives: rosemary extract, tocopherol extracts from vegetable oils (1b306(i)).

Analytical constituents:
crude protein – 21%,
crude oils and fats – 18%,
crude ash – 6,2%,
crude fibres – 1,5%,
calcium – 0,8%,
phosphorus – 0,8%,
potassium – 0,6%,
sodium – 0,4%,
omega-3 – 0,56%,
omega-6 - 2,11%.

Feeding instruction:

Serve the food dry. When you feed your dog Superior Care for the first time, gradually introduce it into your dog's diet over a period of 3 days. Feeding amounts: see table. Your dog may eat more or less depending on age, temperament and activity level.
Clean, fresh water should be available at all times.
---